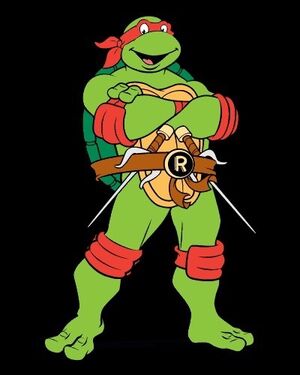 1987 Raphael is the variant of Raphael in the 80's incarnation dimension. He first appeared in the episode Wormquake! along with his brothers taking on the Kraathatrogon.
Appearence
Raphael is a mutant turtle with a bright red bandana worn across his face. Raph also sports bright red elbow and knee pads around his body and a brown belt across his torso for his pair of sai.
Trivia
He is portrayed by Rob Paulsen, the same person who voices Raphael in the 1987 TV show. He is also currently voicing Donatello in this Nickelodeon series.
In Trans-Dimensional Turtles, Raphael is seen stabbing a pizza slice on his sai and slapping the rest of the pie at the screen. This is a clear reference to the 1987 TMNT TV show's intro sequence.

Raphael also exclaims "Gimme a break!", another reference to the intro.
Quotes
"Cowabunga!"
"Gimme a break!"
"That's why we called on you poseurs-- I mean, Turtles-- for help."
"I think I'm gonna like putting more cracks in youth is imposter's shell."
Gallery