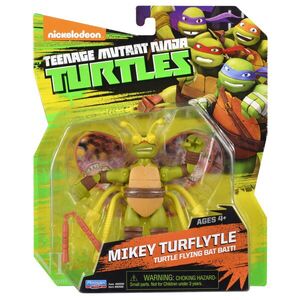 Mikey Turflytle is an action figure made by Playmates Toys In 2014.
Bio
When Mikey agrees to dress up in a giant fly costume to lure Kirby Bat, he starts out feeling bugged. But with an awesome name like Turflytle, Mikey quickly embraces his superhero outfit—complete with wings on his shell, insect legs beneath his arms, antennae, and fly-like goggles on his eyes.
Accessories
2 nunchucks
Bug-eyed headband
Bug wings
Articulation
Ball-joint neck
Ball-joint shoulders
Ball-joint elbows
Swivel wrists
Ball-joint thighs
Ball-joint knees
Notes
Community content is available under
CC-BY-SA
unless otherwise noted.