Purple Dragons

Leader

Race

Humans

Allies

Enemies
The
Purple Dragons
are a street gang. There are currently only four known members, and all of them appear to be Chinese. They commonly hang out at a specific tattoo parlor and have made their hideout in an abandoned fortune cookie factory. They seem to mainly use melee weapons, such as sledge hammers and meat cleavers, in a brawling fashion. The four main members are known as 
Fong
,
Tsoi
,
Sid
, and
Hun
.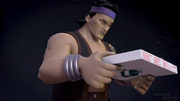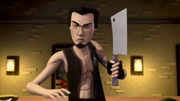 Fong seems to be the De Facto leader. Sid is the most heavily muscled and plays the part of the enforcer. Tsoi seems to be the hustler of the group, swindling people and his fellow gang members out of cash. None of them seem overly bright, but this does not mean that they are not dangerous. All of the Purple Dragons have dragon tattoos. They were briefly seen in
Showdown
, but their reactions to
the Kraang
invasion indicated that they were not in on the plan. They make appearances in a few other episodes throughout Season 1, where they are either seen working alongside the Shredder's lackeys in their war against the Turtles, being dispatched to steal April's cell phone, or receiving orders to steal Kraang Tech by themselves.
Appearances
Known Members
Triva
Sid bears a resemblance to actor and martial artist Bolo Yeung.
Gallery
Community content is available under
CC-BY-SA
unless otherwise noted.